Classic Series
Round Tube Trailers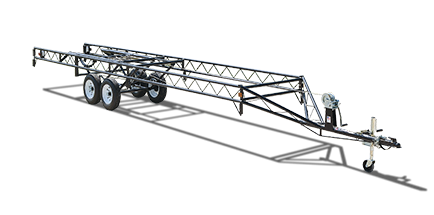 Each classic trailer features a unique winch, cable and sheave system that enables the operator to raise and lower the entire trailer frame. When launching, the approach to the water is extended with the adjustable tongue extension (pined for three positions) which provides extra trailer length for launching.
Standard features include: water-resistant taillights, eight rubber rollers for boat protection, tail light cases, an adjustable trailer frame, leaf springs, safety cable, and 5.30 x 12 inch "D" range tires.
The SL 6570, 700, and 725 series are available in three axle configurations, with or without brakes. Classic trailers are designed to haul pontoons with 40 horsepower motors or less. A classic front extension is also offered for pontoons with extended decks. In addition, tongue jacks and front loading winch are available for more trailering ease.
Contact your local dealer for pricing and freight charges.